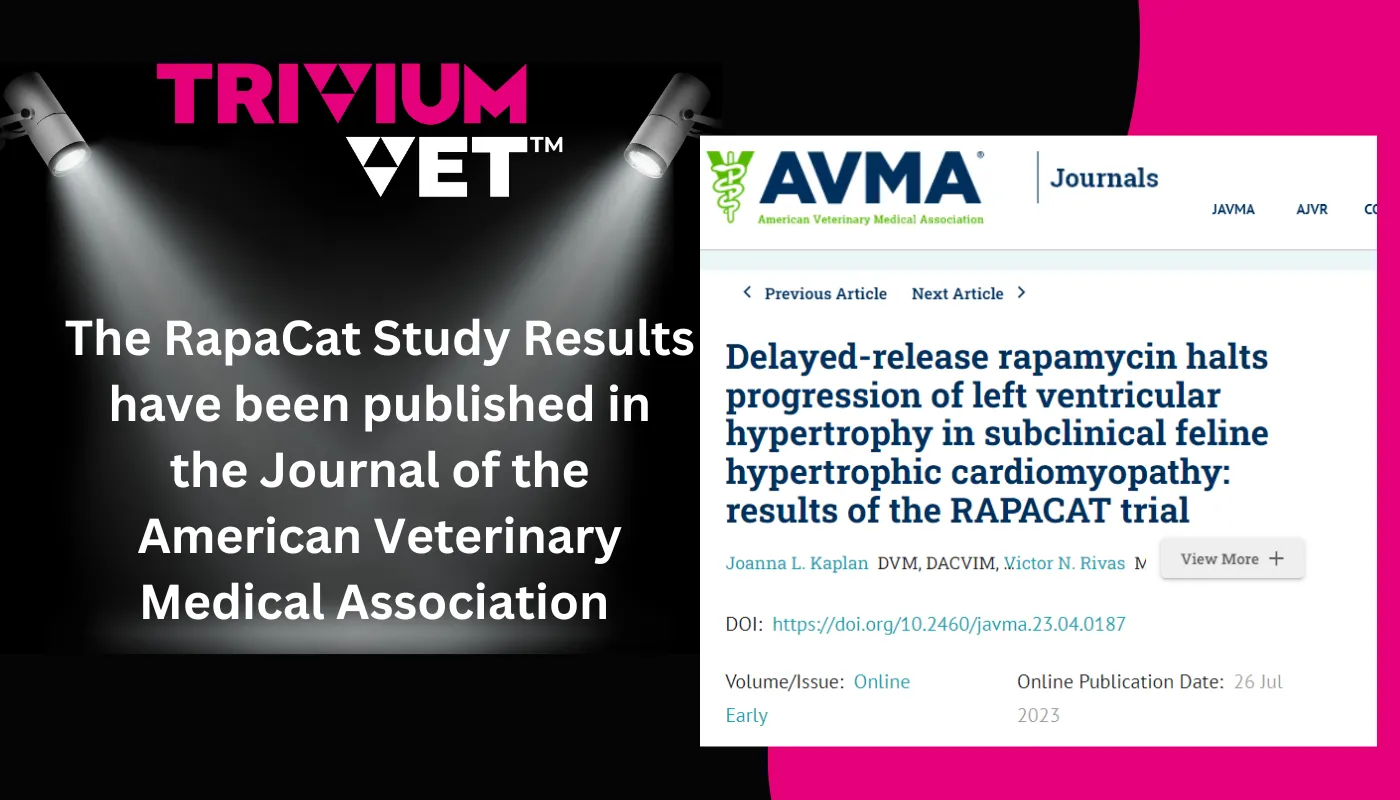 Feline HCM product prevented progression of hypertrophy - Results of the RapaCat Study published in JAVMA
TriviumVet are proud to announce the publication of the results of the RapaCat Study in the Journal of the American Veterinary Medical Association. This study used our novel, proprietary veterinary mTOR inhibitor TRIV202 to target early Hypertrophic Cardiomyopathy (HCM) and was tested in stage B1 and B2 client-owned cats with the disease.
TRIV202 prevented progression of hypertrophy at a dose of 0.3 mg/kg once weekly
When followed up over 6 months, untreated cats with subclinical HCM experience marked thickening(hypertrophy) of their left ventricle
Cats with higher levels of NTproBNP (a blood marker for cardiac disease) have more rapid progression of hypertrophy
The results of this study are very exciting in the fight against Hypertrophic Cardiomyopathy (HCM) and we are happy to be able to share them with you after 5+ years of research and development. We would like to thank all the cats and owners who participated in this important research as well as the passionate and visionary veterinary cardiologists Dr. Kate Meurs and Dr. Josh Stern of North Carolina State College of Veterinary Medicine and UC Davis School of Veterinary Medicine who led the study.
You can access the link and the abstract of the paper below:
"Delayed-release rapamycin halts progression of left ventricular hypertrophy in subclinical
feline hypertrophic cardiomyopathy: results of the RAPACAT trial"
TRIV202 has been researched and developed by TriviumVet for over 5 years and upon regulatory approval would be the first available treatment for hypertrophic cardiomyopathy in cats. TRIV202 is a proprietary(patent pending), delayed release, inhibitor of the mTOR pathway – a central regulator of metabolism and physiology. TriviumVet are the first company to target this pathway in cats with heart disease and have carried out extensive formulation development to create a feline-safe, dose-appropriate product.
Where and when can I get TRIV202?
TRIV202 is currently undergoing regulatory review in the US market by the Food and Drug Administration and in Europe by the European Medicines Agency. The product is proposed for use in cats diagnosed with subclinical hypertrophic cardiomyopathy. Further details will be coming soon and you can follow our social platforms @triviumvet and @felycin for updates.
‍ TRIV202 pivotal clinical trial: TriviumVet are in consultation with the FDA to develop a pivotal clinical trial to generate substantial evidence of effectiveness, this study is called the HALT HCM Study. This is a multi-centre trial which will be run in 20+ centres across the United States and Europe. If your cat has stage B1 or B2 HCM and you would like to register your interest in participating in this study, please submit your interest in the attached link and we will be in touch with details of your closest site once they become available.
HALT trial interest link - https://www.triviumvet.com/halt-study
OVERVIEW OF THE PAPER
Abstract:
Objectives - Feline hypertrophic cardiomyopathy (HCM)remains a disease with little therapeutic advancement. Rapamycin modulates them TOR pathway, preventing and reversing cardiac hypertrophy in rodent disease models. Its use in human renal allograft patients is associated with reduced cardiac wall thickness. We sought to evaluate the effects of once-weekly, delayed-release (DR), rapamycin over six-months on echocardiographic, biochemical, and biomarker responses in cats with subclinical, non-obstructive, HCM.
Animals - Client-owned cats (n =43) with subclinical HCM.
Procedures - Cats enrolled in this double-blinded, multicentered, randomized, and placebo controlled clinical trial were allocated to low- or high-dose DR rapamycin or placebo. Cats underwent physical examination, quality-of-life assessment, blood pressure, hematology, biochemistry, total T4, urinalysis, N-terminal pro-B-type natriuretic peptide, and cardiac troponin at Baseline, Day 60, 120, and 180. Fructosamine was analyzed at screening and Day 180. Echocardiograms were performed at all time points excluding Day 120.Outcome variables were compared using RMANCOVA.
Results - No demographic, echocardiographic, or clinicopathologic values were significantly different between study groups at Baseline confirming successful randomization. At Day 180, the primary study outcome variable, maximum LV myocardial wall thickness at any location, was significantly lower in the low-dose DR rapamycin group compared to placebo (p=0.01).
Oral DR rapamycin was well tolerated with no significant differences in adverse events between groups.
Clinical Relevance - Results demonstrate that DR rapamycin was well tolerated and may prevent or delay progressive LV hypertrophy in cats with subclinical HCM. Additional studies are warranted to confirm and further characterize these results.
‍