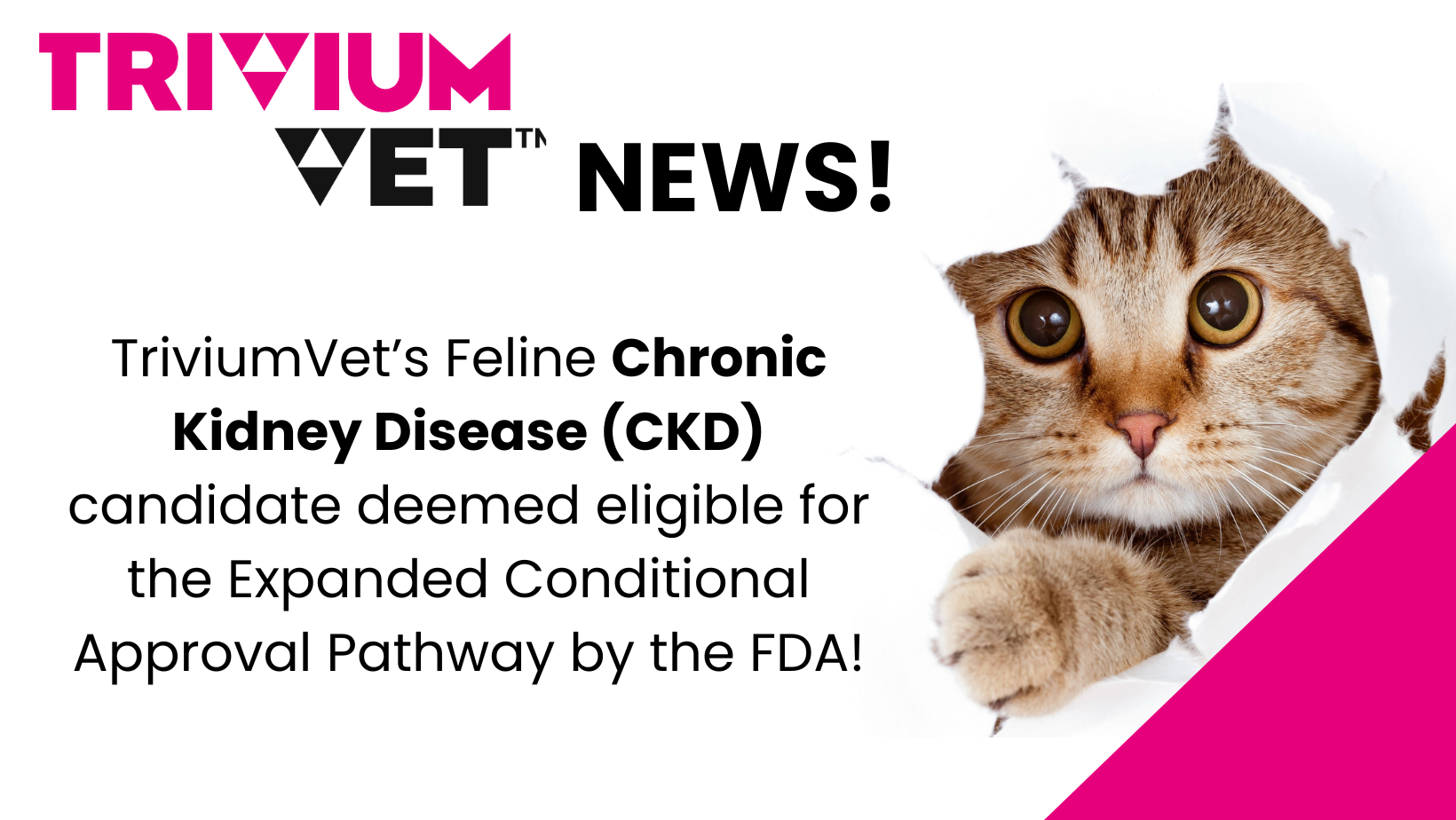 TriviumVet's Feline Chronic Kidney Disease (CKD) candidate deemed eligible for the Expanded Conditional Approval Pathway by the FDA!
FDA's Centre for Veterinary Medicine deems TriviumVet's feline Chronic Kidney Disease (CKD) therapeutic candidate eligible for the Expanded Conditional Approval pathway
TriviumVet®, an animal health research and development company focused on addressing unmet needs in companion animal medicine, today announced that the Food and Drug Administration's Centre for Veterinary Medicine has determined that the company can pursue the expanded conditional approval pathway for its feline chronic kidney disease (CKD) therapeutic candidate.
US Congress granted the FDA a limited expansion of the conditional approval pathway for certain new animal drugs. Conditional approval enables drug sponsors to market a product once they demonstrate the drug is safe, manufactured in accordance with rigorous standards, and there is a reasonable expectation of effectiveness for use, while completing the pivotal clinical studies. In effect FDA's new expanded conditional approval policy gives animals access to treatments while the full effectiveness data is being collected.
Chronic kidney disease is one of the most common health conditions affecting companion animals with over 10 million cats and dogs suffering from CKD globally. Among the many different kidney diseases that may affect cats, CKD is the most common. Chronic kidney disease is the persistent loss of kidney function over time. Healthy kidneys perform many important functions, most notably filtering the blood and making urine, so problems with function can result in a variety of health problems for a cat.
Louise Grubb, CEO of TriviumVet comments "We are delighted that the FDA's Center for Veterinary Medicine is granting us the opportunity to pursue this accelerated development route. This determination recognizes the unmet need for effective therapies for the large number of cats suffering from kidney disease. We are currently conducting a clinical trial in cats with CKD at Ohio State University and the University of Florida; eligibility for expanded conditional approval means that we may be able to present the results to the FDA as early evidence of effectiveness when they are available in early 2024."
TriviumVet – Leader in Companion Animal Research
Chronic, inflammatory diseases can decrease the length and quality of life of dogs and cats. TriviumVet are focused on developing new treatments for these chronic conditions and are actively engaged in clinical studies in cats and dogs including:
Hypertrophic Cardiomyopathy in Cats - A feline heart condition caused by a thickening of the heart muscles.
Chronic Kidney Disease in Cats - A progressive condition that is characterized by a loss in kidney function and can lead to serious health problems for affected cats.
Cardiomyopathy in Dogs - A disease associated with enlargement of the heart and reduced heart function which can lead to congestive heart failure and lessened length and quality of life.
Age-related decline in Dogs and Cats - Some dogs and cats experience rapidly progressing loss of physical and cognitive function.
Feline HCM
In July, TriviumVet shared the peer-reviewed publication of the RapaCat study which assessed their feline hypertrophic cardiomyopathy (HCM) therapeutic candidate.
HCM is a serious and life-threatening condition that affects approximately 15% of cats. This study, published in the Journal of the American Veterinary Medical Association used TriviumVet's novel, proprietary drug to target early HCM and was tested in stage B1 and B2 client-owned cats with the disease.
RESULTS:
When followed up over 6 months, untreated cats with subclinical HCM experience marked thickening(hypertrophy) of their left ventricle

Cats with higher levels of NTproBNP (a blood marker for cardiac disease) have more rapid progression of hypertrophy

Once-weekly inhibition of mTOR prevented progression of hypertrophy
For more information on TriviumVet's portfolio and clinical research visit www.triviumvet.com
TriviumVet are attending the American Association of Feline Practitioners (AAFP) this week in Memphis – 12-15th October – Come visit us at Booth 203 to learn more about our latest research.
TriviumVet company information:
TriviumVet, a veterinary research and development company based in Co. Waterford, Ireland, develops a range of new animal drugs and diagnostics for companion animals. TriviumVet identifies gaps in available treatments and has developed a disruptive and differentiated portfolio with potential to transform existing standards of care in the speciality companion animal markets including cardiology, renal, neuropathic pain and gastrointestinal disease. You can read more about the TriviumVet pipeline here at www.triviumvet.com
@triviumvet
ENDS