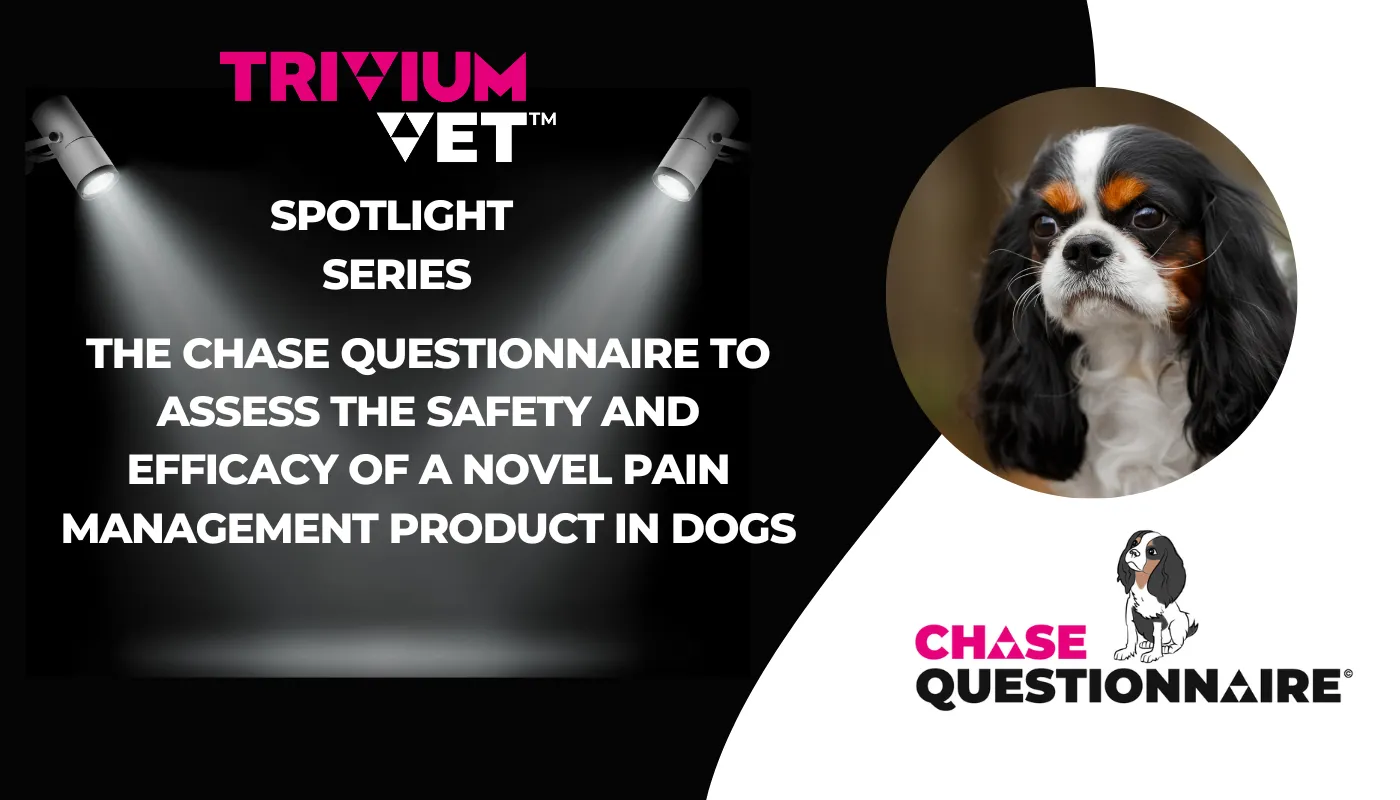 Spotlight Series - The CHASE Questionnaire to Assess the Safety and Efficacy of a Novel Pain Management Product in Dogs
Spotlight on CHASE
This Spotlight Series focuses on The CHASE Study - a multicenter clinical trial using the Chiari-like Malformation & Syringomyelia Evaluation (CHASE) Questionnaire* to Assess the Safety & Efficacy of a novel pain management product in Dogs.
What is Chiari-like malformation and syringomyelia?
Chiari-like malformation and syringomyelia are complex conditions that affect the brain and spinal cord in dogs. Syringomyelia is a disorder of cerebrospinal fluid (CSF) which can occur when there is obstruction of flow of the fluid from the ventricles in the brain to around the spinal cord. This can damage nerves carrying messages to and from the brain. Chiari-like malformation, a condition characterised by a mismatch in skull and brain size (brain too big and skull to small) is the most common cause of syringomyelia in dogs.
What breeds are affected by Chiari-like malformation and syringomyelia?
Chiari-like malformation and syringomyelia are most commonly reported in brachycephalic (short-head/faced)toy breeds. The condition is most commonly reported in Cavalier King Charles Spaniels (CKCS), King Charles Spaniels, Griffon Bruxellois, Affenpinschers, Yorkshire Terriers, Maltese, Chihuahuas, Pomeranians, Boston Terriers, Papillons, French Bulldogs and Pugs.
This exciting study is a multi center clinical trial being run between The Ohio State University College of Veterinary Medicine and the North Carolina State University College of Veterinary Medicine. The goals of this study are to evaluate a newly developed questionnaire to assess pain and clinical signs associated with CM/SM in dogs and to evaluate how well a novel veterinary pain management product might treat the condition.
What qualifies a pet for enrollment in the CHASE Study?
• Generally healthy Cavalier King Charles Spaniels (or other small breed dogs); 6 months- 8 years of age
• Displaying signs of CM/SM
• Able to wear a collar or harness
• Not receiving gabapentin or pregabalin in the 7 days prior to study enrollment
• Able to undergo anesthesia for MRI diagnosis of their condition
What does enrolling a pet in this clinical trial involve?
Dogs with signs of CM/SM dogs will visit the respective veterinary center for an initial screening visit to assess their overall health and clinical signs and to perform testing to confirm that they have CM/SM. They will be enrolled in the study for a total of about a month and will need to visit twice more, at about 2 weeks and 4 weeks after enrolling. At the start of the study, your dog will be randomized to receive either the study drug, or a placebo for 2 weeks. After 2 weeks, your pet will be assigned to the alternate group. You will be provided rescue pain medications that you can use in case your dog requires additional pain management at home during the study. You will be asked to complete a survey at four timepoints to assess your dog's clinical signs associated with CM/SM, will need to maintain a diary to capture any abnormal signs or behaviors while your dog is on the study, and will be asked to maintain a record of each time you administer medications to your dog.
Client compensation
Enrollment in this study group requires your dog to have an MRI documenting CM/SM within the last 90 days. The study will cover the cost of this, and the other pre-screening requirements, if your dog appears otherwise eligible for the study. The cost of all study-related visits and study-related medications is covered by the study.
To inquire about participation at:
NC State contact Amanda Valentino via email: ckcschiari@gmail.com
Ohio State contact Sarah Moore via email: moore.2204@osu.edu