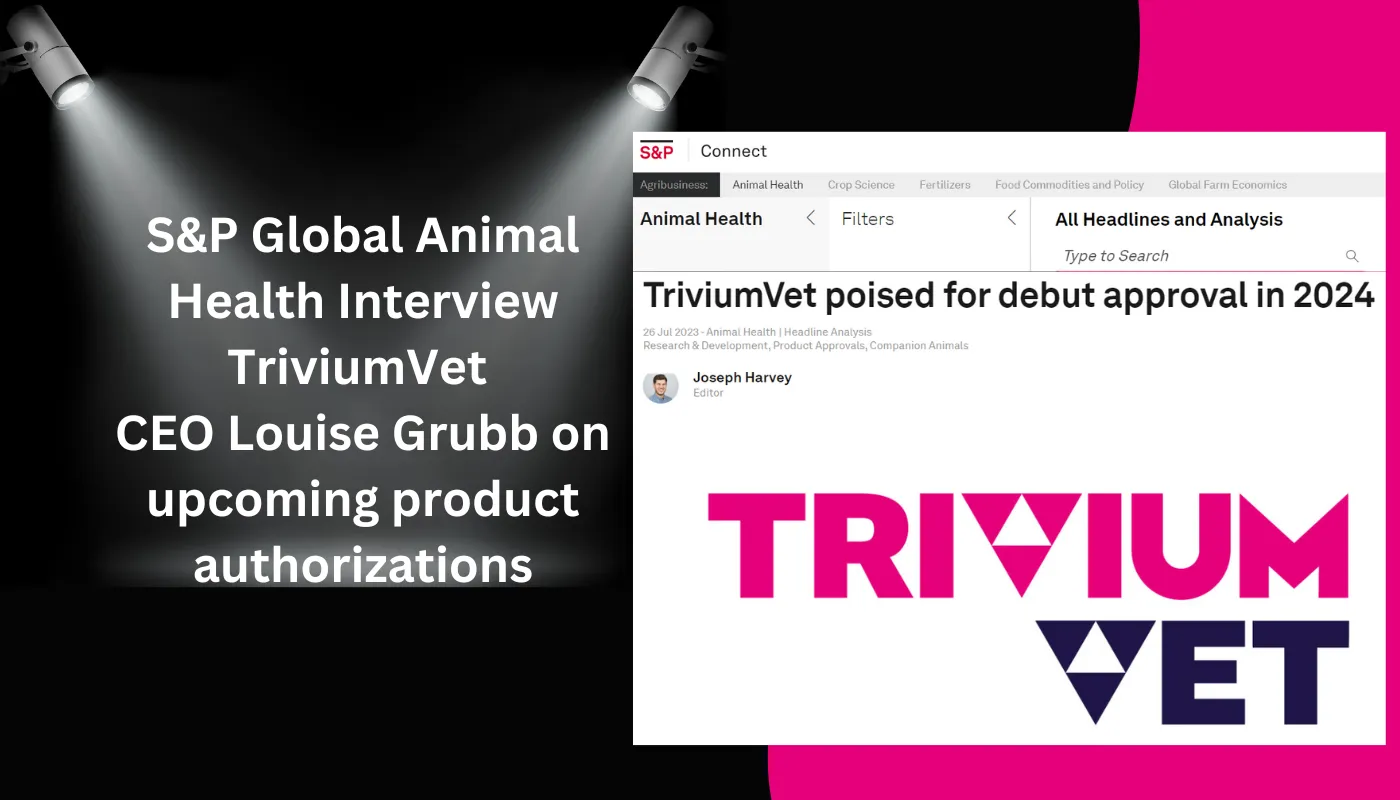 S&P Global Animal Health Interview TriviumVet CEO Louise Grubb on upcoming product authorizations
S&P Global Animal Health Interview TriviumVet CEO Louise Grubb on upcoming product authorizations
You can read the full article below.
https://connect.ihsmarkit.com/document/show/phoenix/4809652?connectPath=Search&searchSessionId=f5466302-b7e9-48e1-a199-8d4963698ab3
Irish pet therapeutics start-up TriviumVet aims to secure its first product authorization during the first quarter of 2024.
The company has developed a range of candidates targeting cardiology, pain, gastroenterology, age-related diseases and general wellness. Its lead product is Felycin – a treatment for feline hypertrophic cardiomyopathy (HCM).
At the recent VetHealth Global conference on Canada's Prince Edward Island, the company's co-founder and chief executive Louise Grubb told S&P Global Animal Health the HCM candidate is currently making positive progress within the US FDA regulatory pathway. She noted the company is "quietly confident" of the product's approval in Q1 and is recruiting for its commercialization team.
Ms Grubb said TriviumVet is seeking US approval for Felycin under the FDA's expanded conditional approval scope. Last year, Boehringer Ingelheim Animal Health's Vetmedin-CA1 became one of the first products to be authorized under this new regulation. The FDA widened the remit of its conditional approval process for veterinary medicines beyond its minor use and minor species (MUMS) program to include products not intended for MUMS uses that "address a serious or life-threatening disease or condition, or an unmet animal or human health need, and for which demonstrating effectiveness would require a complex or particularly difficult study or studies".
Waterford-based TriviumVet is currently looking at commercialization options for the HCM treatment, which it believes has the potential to become a blockbuster. Ms Grubb said there is currently no treatment for feline HCM, even though one in seven cats tend to suffer from the heart disease. The start-up will soon publish positive data from an efficacy study of Felycin, which is a patented delayed-release rapamycin formulation.
TriviumVet is also conducting other clinical trials to assess a candidates for dilated cardiomyopathy, sub-valvular aortic stenosis and gastric ulceration in dogs, as well as chronic kidney disease in cats.